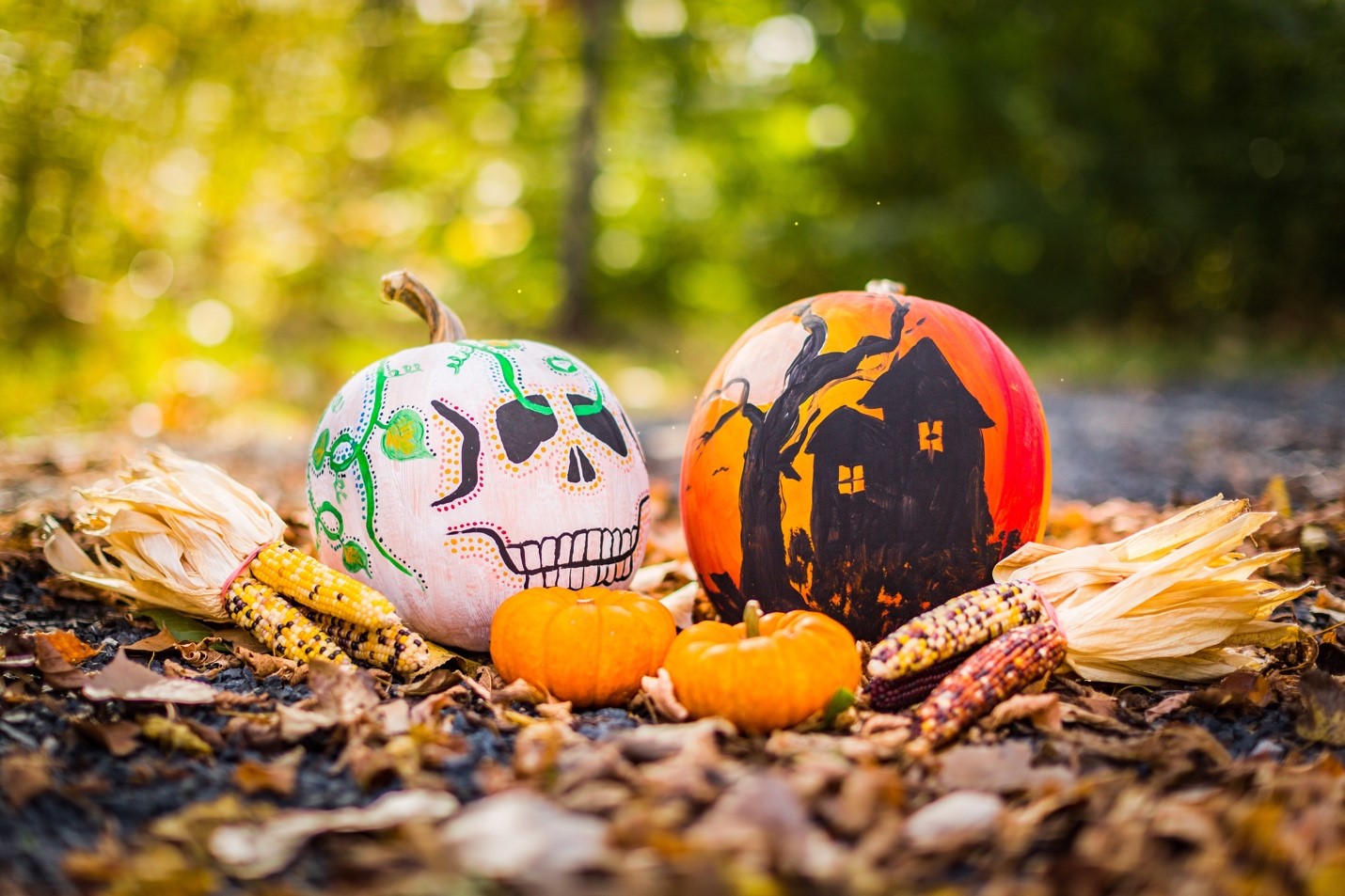 15 Oct

Pumpkin Carving and Decorating Ideas

Fall is officially here and with its arrival comes an abundance of lively events and activities that help us celebrate this colorful season. Most importantly, the beginning of fall means that Halloween is right around the corner and in anticipation of the exciting night, we've already started to decorate our homes, plan our candy routes, and think of creative costumes. In addition, pumpkin carving is one of Halloween's best traditions and a great way to display Halloween spirit. Whether you're planning to host a pumpkin carving party of your own or you have a few to attend, here are some unique carving and decorating ideas to really make your pumpkin stand out.
Pumpkin Painting Ideas
While carving is a time-honored tradition, some prefer to keep the pumpkin intact, which helps it stay fresh and last longer. Painting your pumpkin with a ghostly Halloween portrait or a haunted house scene sets it apart from the other jack-o-lanterns and is a fun, hassle-free art project. For abstract art fans, consider creating a crayon-drip pumpkin or a splatter paint squash. Modern, geometric shapes, stripes, and patterns provide a cool and unique twist on traditional pumpkin décor. More inspiration for no-carve pumpkins may be found here.
Decorations with Flair
If you really crave something different this Halloween, consider adorning your favorite orange ball with buttons, pins, or even flat-bottom studs for an awesome punk-rocker edge. For a sweet, whimsical pumpkin, hot glue pompoms, colorful trim, and silky ribbon along its stem and ribs. Neon and black-light tape make your jack-o-lanterns glow, without even putting a knife to them. Wrap neon colored, glow in the dark tape around the gourd for a fun night light. Take it a step further and adorn each with black-light tape then place a black light bulb close by so they'll really glow.
Unique Carvings
It's tempting to keep with the traditional toothy smile of our country's favorite Halloween character, the jack-o-lantern, but if you're interested in changing it up and trying something new, there are plenty of straightforward and simple designs that will take your pumpkin to the next level. These designs involve simple cuts that will leave you with a sweet looking jack-o-lantern to light up when the sun sets. For cinephiles, there are a variety of characters from beloved thriller flicks with which to adorn your pumpkin. The Oogie Boogie Man, Frankenstein, or Freddy quickly turn pumpkins into scary decorations that may cause trick-or-treaters to scream with delight.
Even More Ideas
Turn your pumpkin into a candy holder, a sign (that points toward the entrance of a Halloween party), or even a serving dish. Use mini pumpkins to make a haunted chandelier, or craft beautiful fall garland with pumpkins as the focal point. For something more personal, use them as photo holders and pin family pictures to them.
There are so many versatile ways to use this autumnal orange squash. Paint them, pin them, or carve them into haunted Halloween characters and scenes. Pumpkins make fantastic porch or balcony decorations and will turn your home into a celebration of fall.
ARISTA Broomfield's spacious apartments look especially beautiful when decorated with autumn's colors. Our luxury apartments also put residents at the center of bustling Broomfield with many breweries, bars, and restaurants just a stone's throw away. Sample a cornucopia of fall offerings like pumpkin beers, spiced lattes, and more just steps from ARISTA Broomfield. Contact us today for a tour.