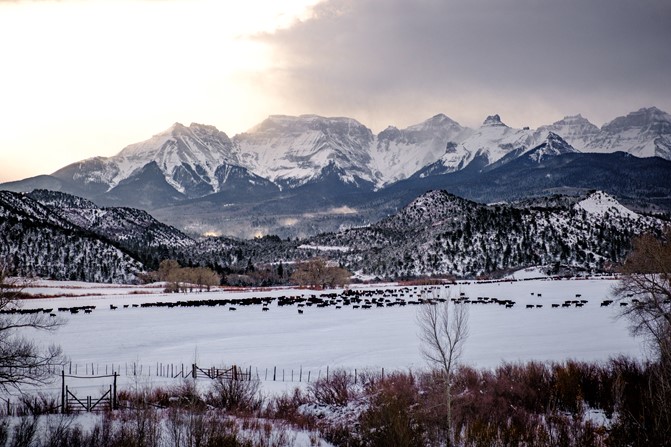 03 Dec

Colorado Winter Bucket List Ideas

With its breathtaking views, lively cities and culture, and an average 60 – 100 inches of snowfall each year, it's no secret that The Centennial State is a winter paradise for the adventurous and non-adventurous alike. Whether you seek the adrenaline rush of world-class skiing or prefer to make unforgettable memories at a lower elevation, there is definitely no shortage of winter fun to round out your bucket list. Here are four bucket list-worthy things to do in Colorado to make the most of the winter season this year.
Ski or Snowboard at Arapahoe Basin
Colorado is synonymous with some of the best skiing and snowboarding in the world, with ski resort giants like Breckenridge, Keystone, and Vail attracting an average of 1.3 – 1.6 million visitors each year. While these major resorts certainly deserve their astronomical popularity, this can also result in longer lift lines on good powder days and a heftier lift ticket price if you don't manage to secure a season pass.
However, located less than an hour away from these major resorts is the lesser known, more affordable, equally-incredible Arapahoe Basin Ski Area (A-Basin). With nine lifts, two terrain parks, and the legendary Montezuma Bowl on the back side of the mountain, A-Basin is perfect for both groms and professional thrill-seekers. Not to mention, the views from the top of the mountain are worth the trip in itself. Better yet, the cost of a single-day lift ticket starts out at about $49, which is roughly a third of the cost of its neighboring counterparts.
A-Basin is open for the 2020-2021 season, and is currently offering access to its High Noon run and Banana Terrain Park via the Black Mountain Express lift. Lift tickets for this season are available online only and can be purchased here.
Take a Tour of Hammond's Candies
Located in the heart of Denver, Hammond's Candies has been making decadent handmade sweet treats for 100 years. For those looking for a wholesome and interesting experience that is sure to delight the whole family, Hammond's Candies offers free 30-minute tours of their candy factory.
Hammond's Candies offers its famous free tours of the candy factory year-round. However, there is arguably nothing that represents the ultimate holiday experience quite like surrounding yourself with thousands of oversized candy canes, lollipops, and other sugary treats.
Candy factory tours are available Monday through Friday from 9:00 am – 2:45 pm. To book your tour, simply visit Hammond's Candies' online portal.
Check Out the Snow and Ice Sculptures in Breckenridge
If you are an art connoisseur, be sure to check out some of the most awe-inspiring pieces of art that are unique to the winter season. Each year, Breckenridge hosts the International Snow Sculpting Championships – a tradition spanning over 30 years.
Even though the annual championships have been postponed until 2022, visitors still have an opportunity to view a variety of snow art installations during the 2021 Breckenridge Snow Sculpture Invitational from January 29 – February 7, 2021. This year, the snow sculptures will be displayed throughout the community to facilitate a less congested viewing area and encourage visitors to explore Breckenridge's vibrant arts district. Be sure to subscribe to receive the latest updates on the event.
Get Lost in Nature in Crested Butte
Winter is an excellent time to leave the city and see the natural landscape in an entirely new way. Among the most beautiful natural places in our state is Crested Butte, with Mt. Crested Butte located only a couple of hours west of Salida. For those looking to experience the outdoors beyond the boundaries of groomed ski slopes, Crested Butte is a haven.
Hiking enthusiasts can enjoy its winter counterpart, snowshoeing, and enjoy a wide variety of accessible trails through the wilderness of the Elk Mountain Range. Or, hop on a fat bike and explore popular trails like the Riverbend Connector Trails in a totally new way. Fat bikes are available for rent or purchase at Big Al's Bicycle Heaven on Elk Avenue, or bring your own!
If exploring the snow-covered mountain is not your thing, you can still get away from it all while enjoying all that the small but effervescent town of Crested Butte has to offer. Despite its size, Crested Butte has an incredibly diverse food scene with a few notable favorites being The Last Steep, Soupcon Bistro, and Wooden Nickel.
Regardless of your definition of fun, there are limitless ways throughout Colorado to make this winter season the most memorable one yet. As days grow shorter and temperatures drop, many places throughout the country tend to slow down over the next few months. However, Colorado is one of those special places that comes alive during the winter. If you are interested in living in a vibrant community with endless bucket-list opportunities just a stone's throw away, please contact our team at ARISTA Broomfield.