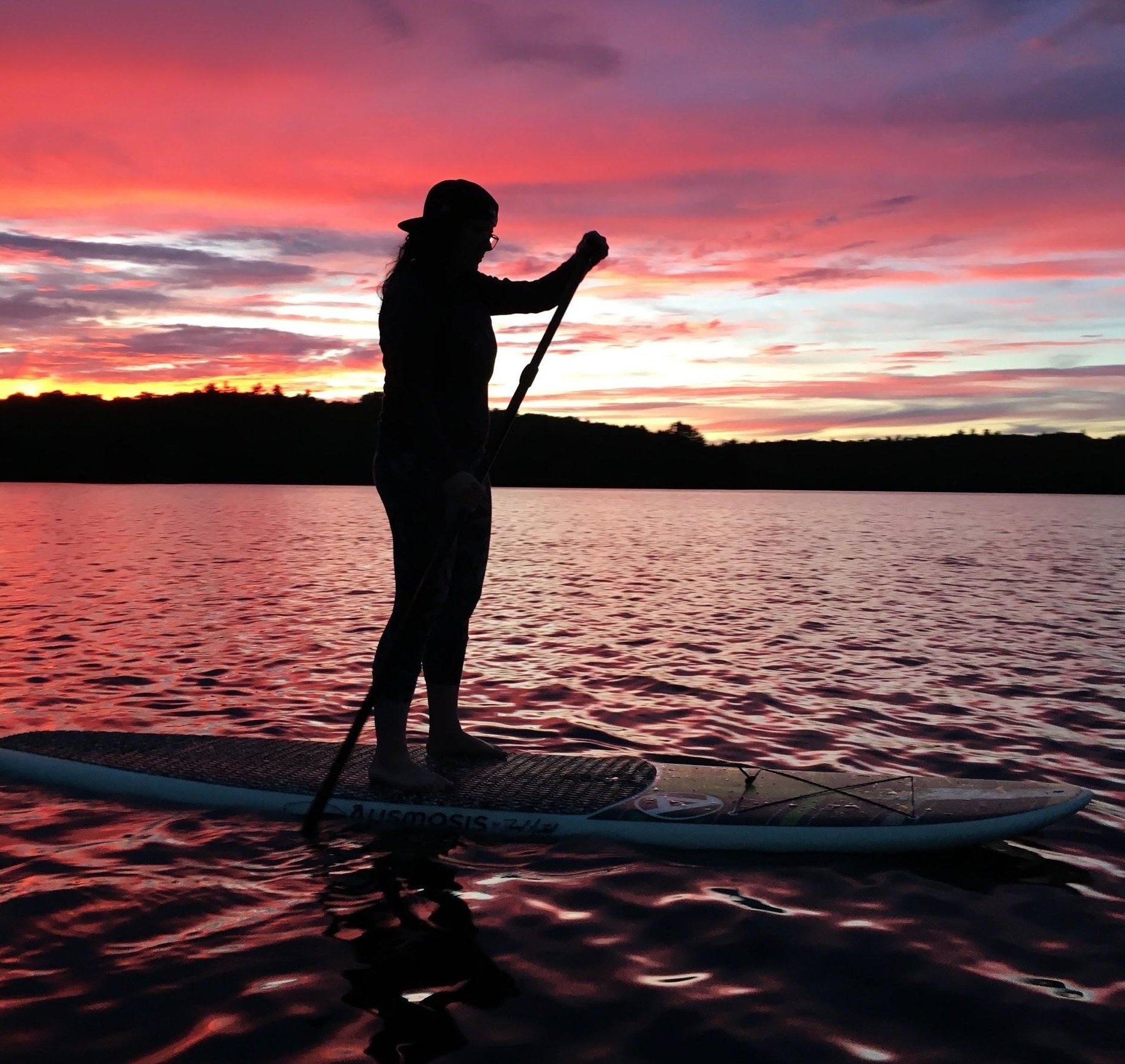 21 Jul

A Beginner's Guide to Stand Up Paddle Boarding (SUP)

Interested in trying out a new (and fun) form of aquatic exercise this summer? Stand up paddle boarding (SUP) provides the unique combination of a total body workout and an awesome vantage point for viewing the horizon as you glide across the water. Plus, this activity is easily enjoyed solo or six feet apart from others to cooperate with social distancing guidelines. If you're a newcomer to SUP, here's an overview on how to prepare and what to expect:
Essential Gear
To safely navigate the waters via paddle board, there are a few essentials you'll need to buy or rent, which include:
A stand up paddle board. If this is your first time trying SUP, renting a board may be the best choice. If you fall in love with this pastime after your first session, you can explore buying a paddle board that suits your needs.
A paddle. Paddles designed for SUP look similar to a canoe paddle, but they're more elongated with a tear-drop shaped blade. Be sure to choose a paddle that's the right length for your height: when you raise your arm above your head with the paddle standing in front of you, it should reach your wrist.
Personal floatation device (PFD). Regardless of your swimming expertise, the U.S. Coastguard classifies a paddle board as a vessel. This means that you must have a personal floatation device on board when outside of a surf or swimming area (and children must wear a PFD at all times).
Light and safety whistle. Even when paddle boarding in a populated area, it's important to take safety precautions. A safety whistle can help you communicate with boaters nearby, and a light is a must if you're planning to stay out after sunset.
Basic Paddle Boarding Techniques
You'll probably get your bearings fairly quickly when practicing proper technique, regardless of whether you're a novice. Here, we share an overview of best practices to help you enjoy your SUP session:
To climb aboard the paddle board, find knee-deep water and hold the board by the edges. Place your knees in the center of the board and use your hands to keep the board stable as you carefully place your feet where your knees just were.
To achieve optimal balance, place your feet hip-width apart and keep your toes pointing forward. Avoid looking down and keep your gaze aimed at the horizon.
When you lose your balance, shift yourself to the side to help you fall into the water rather than on top of the board. Do your best to hang onto the paddle as you fall, but if you do lose your grip, retrieve the board and climb back on again before you set out to find the paddle.
Stand up paddle boarding is an excellent way to get a total-body workout while enjoying the beauty of the outdoors. The Broomfield area is close to several bodies of water that allow stand up paddle boarding. When you're ready to plan your visit, ARISTA offers everything you need for a memorable day: gorgeous views, great shopping and dining, and easy access to transportation. Interested in learning more about our master-planned development? Please contact us today for more details.