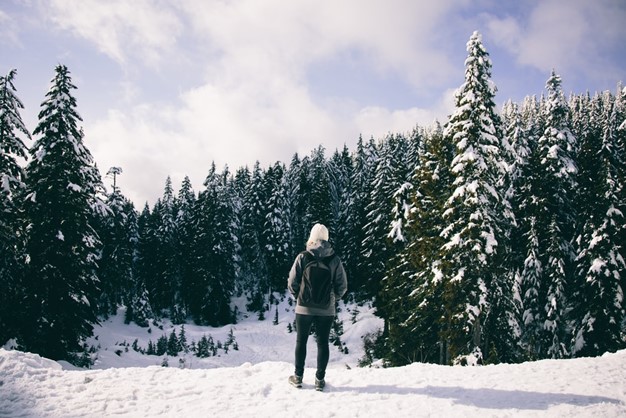 22 Dec

The Top 5 Hikes Near ARISTA Broomfield

Winter hiking is a wonderful way to get out in the fresh air after wriggling free from the grips of Hulu. In Colorado, a state known for its active lifestyle, there are trails everywhere, from local creeks to hilly thrills.

Here are five of our nearby favorites:
Carolyn Holmberg Preserve at Rock Creek Farm
If you're looking for a hike practically in your backyard (around six miles away), consider the Carolyn Holmberg Preserve at Rock Creek Farm. This is a very easy hike that's ideal for families or anyone in the mood for more of a nature stroll than an arduous trek.
It's located north of Broomfield at South 104th Street and Dillon Road and features dog-friendly trails that range from .3 miles to 1.5. However, the preserve is part of a large trail system, connecting to Coal Creek Trail, Lake Link Trail, and Josh's Pond. If you want to make a day of it, veer off on Rock Creek Trail and walk all the way to Erie. Your golden retriever will be ecstatic.
Chautauqua Park
Living near Boulder and not hiking Chautauqua is like living near Target and not maxing out your credit cards. Chautauqua Park offers tons of hiking variety, from easy, half-mile jaunts to five-mile steep ascents. Spend a few hours in the great outdoors before hitting Pearl Street for lunch.
Dogs are allowed but black bears and mountain lions roam the area so keep them close. Still, you're more likely to run into deer, birds, or squirrels. In other words, the scariest thing about Chautauqua is finding a parking spot.
Canyon Loop at Betasso Preserve
The Canyon Loop is most ideal for hikers who want a workout. The three-mile trail features a one-mile stretch that can be quite challenging. The mountain views, pine trees, scenic overlooks, and spacious meadows do their best to make up for it.
The loop is a very popular choice for mountain bikers, which leaves it more appealing in the winter when cyclists tend to hang up their wheels for the season. The trail is closed to bikes on Wednesdays and Saturdays if you want to avoid them entirely.
Rocky Mountain National Park
Rocky Mountain National Park isn't exactly a stone's throw away from Broomfield (it's about an hour's drive) but it's an exquisite place to embrace true winter hiking. The area near Nymph Lake, Dream Lake, and Emerald Lake offers a relatively easy hike of just under four miles.
The park itself is among the highest national parks in the country, with elevations that range from 7,800 feet to over 14,000 feet. So, bring good boots or snowshoes and plan for snow-packed paths. Even if the grounds are clear and dry in the metro area, they won't be here.
Red Rocks Park
Red Rocks might be the quintessential place to go to see Big Head Todd, but it's also a place where you can hit the trailhead. The stunning views juxtaposed against the chilly Morrison air results in a bittersweet surrender indeed. With less traffic on the roads, Red Rocks is about a half hour from Broomfield during the winter months.
Hikes vary in distance from 1.4 to six miles, which means you can opt for a quick outing or a half-day adventure. The area is sandwiched by beautiful rust-colored stones and hills, giving the park its name and visitors a visual thrill.
The hiking trails above allow you to lace up your boots and enjoy stimulating adventure without a lot of travel time. They're the perfect way to have mountains of fun even as Mother Nature tries to rain (and snow) on your parade.   ARISTA Broomfield's spacious apartments offer plenty of room for relaxation after a day on the trails. Located near shopping and dining in the creative corridor of the metro area, we offer the perfect place to unwind during the winter and all year long. Contact us to learn more.