24 Jun

Summer Concert Series 2021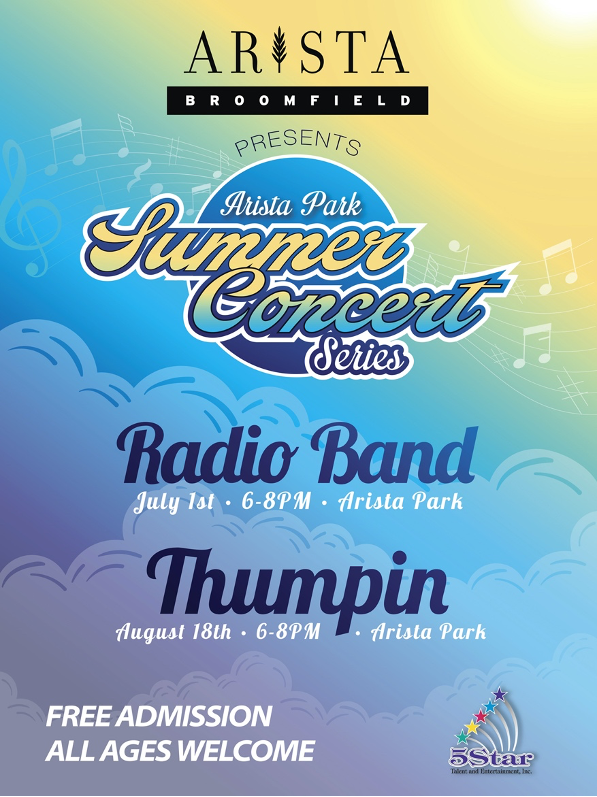 Summer in Colorado is best enjoyed outdoors, with a cold beverage in hand and live music playing in the background. Fortunately, ARISTA Broomfield's summer concert series is back. This free event is open to all and dancing, singing, and relaxing is highly encouraged. Learn more below.
About ARISTA Summer Concert Series
This year's schedule will host two bands, one in July and one in August. There is no admission, and all ages are welcome. This family-friendly event invites participants to pack lawn chairs, picnic blankets, food, and drink. Consider patronizing one of the Broomfield restaurants and ordering to-go dinner! Both concerts will be held at ARISTA Park. Show up early to secure a spot close to the stage.
Radio Band
When: 7/1, 6:00 – 8:00pm
If you enjoy sing-a-longs unlike any other, you won't want to miss Radio Band. This popular Denver-based group is well-known for its energetic covers, variety of genres, and lively performances. From R&B to Pop to 80's Hairbands, and everything in between, the dynamic Radio Band has never met a genre it didn't want to groove to. Radio Band is typically booked up with weddings, birthday parties, private events, and outdoor concerts so don't miss the chance to catch this exciting group at the beautiful and scenic ARISTA Park.
Thumpin'
When: 8/18, 6:00 – 8:00
This 11-piece band is sure to bring down the house with its thumpin' jams. Traditionally, this vivacious group plays R&B, soul, and funk and frequently lands a top slot on The Denver A List. Dance enthusiasts or those looking to shake off some energy should lace up their kicks and head down to catch this epic performance.
We are fortunate to host awesome community events, like the ARISTA Summer Concert Series. Community is the focal point of our entire mission, and now that we are able to gather again in person, it's time to reconnect with our community. Our master-planned development was consciously designed to bring people together in this beautiful place we get to call home. Contact us today to learn more.