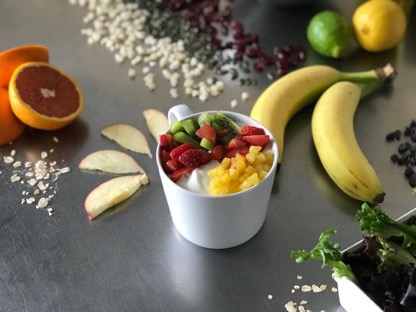 21 May

Restaurant Feature: Prosperoats at ARISTA Broomfield

Prosperoats is much more than a casual breakfast eatery — it's a locally loved, community- focused restaurant that strives to provide quality nourishment to its patrons. Born from a desire to have healthy, convenient, and affordable dining options, Prosperoats now provides much more than nutrient-packed bowls; it bolsters the local economy through a community-focused ethos.
Prosperoats Ethos
Recognizing that the modern, urban dwelling human is constantly on the move, Prosperoats wanted to create food that would keep him or her fueled throughout the day without compromising on quality or health. It fosters the belief that breakfast truly is the most important meal of the day, but also entertains that this morning meal doesn't need to be restricted by certain hours.
Good for People and Planet
Prosperoats takes responsibility for its place in the small business sector and its place in Colorado by using sustainable ingredients that are good for the body and locally sourced. It crafts each bowl out of real, unprocessed ingredients, ensuring that meals are high in fiber and vitamins, and are low in sugar and fat.
Ingredients that travel shorter distances are usually better for the consumer, the business, and the economy. Prosperoats is committed to buying local Colorado produce when in season, Farm2Cup certified coffee, and free-trade teas. Its delicious coffee syrups are vegan-certified, contain no GMO's and no high-fructose corn syrup. Basically, everything you get in a Prosperoats bowl is of the highest quality and will keep you fueled for whatever lies ahead.
Commitment to Community
This community-conscious restaurant partners with other local businesses to encourage city-wide support and economic growth. Vendors like Coda Coffee and Jerry's Nut House are partners with Prosperoats, so guests get to enjoy a variety of local Colorado fare whenever they dine at this healthy eatery.
It's obvious that Prosperoats truly cares about the people that keep its business thriving– their customers and employees. This isn't a churn and burn, fast-casual dining joint looking to turn a profit. Prosperoats is a positive, generous company that offers employees a safe work environment and fair wages, and provides affordable, delicious food to its customers. It recognizes what and who keeps them in business and strives to do everything possible to ensure guests and employees are satisfied.
Just Try it Already!
We could go on and on about how good Prosperoats is for our ARISTA Broomfield community, but we've already worked up an appetite. Head down to Prosperoats at 8001 Arista Place Suite 125 and enjoy the open floor plan and naturally lit environment while dining on a nutrient, fresh bowl of oats, yogurt, fruit and more.