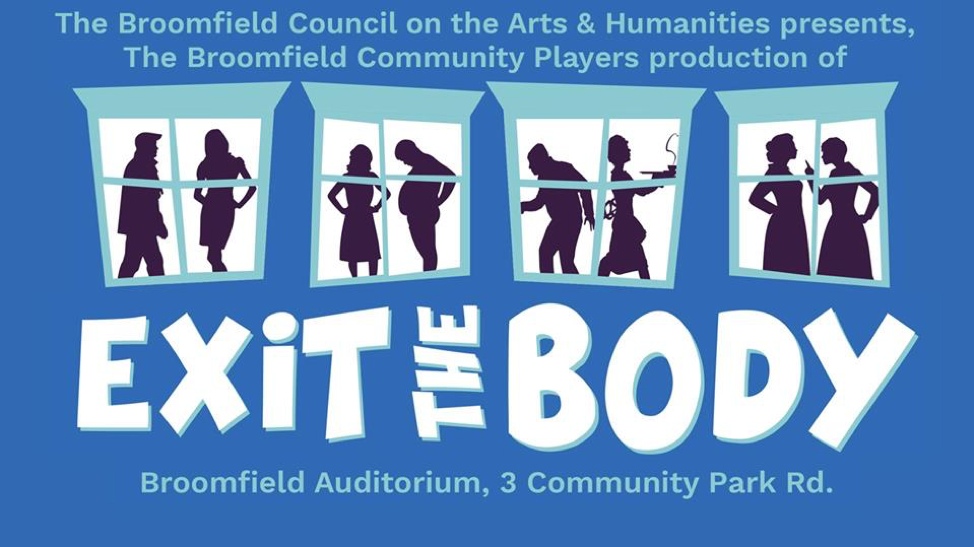 20 Aug

Broomfield Community Players: Exit the Body

Broomfield, Colorado is home to a diverse group of residents that contribute to our city's unique community. Our melting pot neighborhood provides ample opportunity for folks to explore, create, and contribute to the colorful tapestry that is Broomfield. The Broomfield Community Players theater troupe is no exception. Created in 2016, this all-volunteer group focuses on reigniting passion for the dramatic arts throughout Broomfield. Its upcoming performance Exit the Body is a surefire hit guaranteed to delight Broomfield's theater fans. Here's what you need to know about the upcoming event.
Exit the Body – A Farce in Three Acts
Exit the Body follows the main character, Crane Hammond, throughout her time at a rental cottage in New England. Hammond, a famous mystery novelist, is spending her summer vacation at the peaceful home when, suddenly, her tranquil days are interrupted by bodies that appear and disappear from her closet.
Unbeknownst to Hammond, her home is the meetup for local jewel thieves, and unexpectedly, she's smack dab in the middle of the action. In addition to this chaos, a mix-up with husbands and constant unannounced visitors is the source of the play's comedic action. Audience members will laugh out loud at the silly plot twists and fall in love with the characters' witty banter.
When and Where
Broomfield Community Players will offer three showings of Exit the Body. On 8/30 and 8/31, the shows begin at 7pm. On 9/1, a 2pm show will be offered. The performances take place at Broomfield Auditorium.
About the Playwright
Fred Carmichael was born in Pelham, NY on February 1, 1924. Carmichael's theater career began in his teens and continued throughout his life. His numerous plays have garnered awards and won the hearts of comedy lovers and thespians around the world. Exit the Body is a Carmichael classic that keeps viewers guessing. Carmichael's style plays heavily on the unexpected and absurd, promising to entertain, engage, and delight.
Join the Broomfield Community Players
This band of merry performers is completely volunteer-based, and all interested parties are invited to audition. Check the group's Facebook page for details and newly announced casting calls. Broomfield Community Players is a welcoming bunch of theater lovers, dramatists, and comedians that work together to bring theater to the Broomfield stage.
ARISTA Broomfield is home to a vibrant community of individuals who have an array of hobbies and passions. Its diverse residents are entrepreneurs, athletes, artists, and more. ARISTA Broomfield offers its residents unprecedented access to urban amenities and outdoor activities, making our planned hub the perfect space where folks can work, play, and reignite their own theater passions. To schedule a showing, contact us today.
Featured photo courtesy of Broomfield Community Players, used with permission