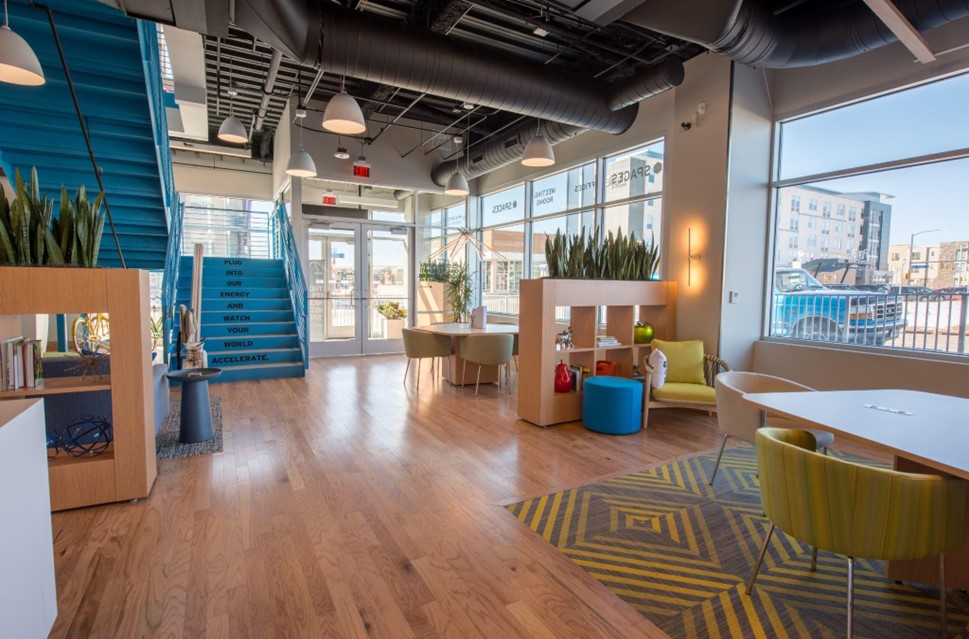 18 May

ARISTA Feature: SPACES

Spaces Arista is a flexible coworking collective with rentable offices located in Broomfield, between Denver and Boulder, with easy access off the highway. It's in a walkable area among restaurants, art boutiques, and cafes, and serves as the perfect place to set up shop during business hours…or, really, whenever you want.

The perks of Spaces depend on your membership level and can include:
Three meeting rooms
Ultra-fast Wi-Fi
Breakout areas and outdoor areas
Easy parking
12 dedicated desks for those who want consistency
71 private offices for those who crave anonymity or seclusion
The option to pay as you go
24/7 access
Networking space
Flexible contracts
Mail handling services
AV equipment
Catering
Telephone answering and call forwarding services
Working in a coworking space offers several benefits, advantages to your profit margin and your sanity, including the following:
The Chance to Work Whenever you Want
The 9-5 workday is a thing of the past; nowadays, it's perfectly normal to work hours that work for you (even if they seem odd to others). Whether you're a morning person or as nocturnal as a hamster, Spaces offers membership packages that feature onsite 24/7 access during business hours and when you're burning the midnight oil.
The Ability to Work with Fewer Distractions
From the allure of Netflix to barking dogs, working from home might be convenient, but it's not always productive. A coworking space allows you to get work done without any household interruption or procrastination prompts. Your Maltese might not approve of you leaving the house, but your clients will!
Less Loneliness and Isolation
Working solo can be a difficult adjustment for those who enjoy being around people. While a coworking space isn't exactly a social call, it does offer the opportunity to meet people, reducing loneliness and isolation in the process. As a bonus, working among other professionals can inspire your productivity, give you a chance to network, motivate your work ethic, and foster your creativity.
A Home Base for Clientele
A home office might be fine as a home base for you, but it's not a great one for your clients. A coworking space, full of meeting rooms and team building areas, establishes a central location to woo new work or impress the clients you already have. Hosting VIPs on your front porch just doesn't quite make the same impression.
A Sense of Routine
Working from home can be comfortable; there's certainly freedom in swapping your slacks for flannel pajamas. But it comes with a cost: when your office is your kitchen, it's easy to believe you should always be working. A coworking space allows you to set boundaries, implement a sense of routine, and adopt that all-important work-life balance.
Whether you need a place to meet with clients every Friday afternoon or you just want a business address outside your residence, Spaces can accommodate. Contact them today to get started.
ARISTA Broomfield's spacious apartments are located near shopping and dining in the "creative corridor" of the metro area. We offer the perfect place to unwind after work and all day long. Contact us to learn more.