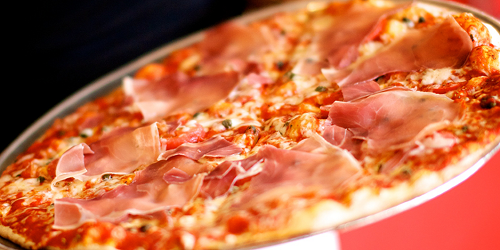 23 Feb

ARISTA Feature: Proto's Pizza

Proto's Pizzeria Napoletana promises you love at first bite. Located at the center of ARISTA and within a block of the 1st Bank Center, Proto's is an excellent spot for a before-bed snack, a pre-event dinner, or a happy hour celebration after work. It's a small chain with a mom-and-pop vibe founded by Pam Proto after she moved from Boston to Boulder and longed for pizza with East Coast essence. Patrons can feast on pie with bubbly and charred crust, and many toppings to choose from.

So, why should you give Proto's a try? Well, it's pizza, so there's that, but it also offers the following:
A Wide Variety of Eats and Sweets
With time-tested favorites, as well as out-of-the-pizza-box creations, Proto's is more than meets the eye or the pie. Choose from ingredients like pesto, ham, prosciutto, pepperoni, pineapple, meatballs, mushrooms, bacon, peppers, onions, sauerkraut, artichoke hearts, white anchovies, tuna, fresh clams, Dijon sauce, honey-chipotle sauce, jalapenos, and sheep's milk feta. It offers gluten-free options and different sized orders, ranging from a pizza for one to a meal to share with friends.
While pizza is Proto's signature dish, you can also enjoy salads, paninis, tomato and mozzarella appetizers, and an extensive dessert menu. End your night on a sweet note with a scoop of gelato, an order of cannoli, tiramisu, or a chocolate chip cookie ice cream sandwich.
Drinks Galore
Proto's offers as much to drink as it does to eat. House wine is offered at $21 a bottle and traditional and specialty cocktails from a full bar. Sip on whiskey sours, margaritas, lemon drops, spritzers, prosecco, martinis, and more. There are a plethora of non-alcoholic options, as well.
The Convenience
Any way you slice it, Proto's keeps things convenient with dine-in options, carryout, and an outdoor patio for anyone who is more comfortable in the fresh air. It's centrally located and easily walkable from ARISTA. While the restaurant doesn't deliver (aside from contracted delivery services), this generally isn't an issue: you don't need a 30-minutes or less delivery guarantee when you live 1,000 steps away.
The Accolades
Proto's has been named "Best Pizza" by a variety of publications, including 5280 Magazine, the Daily Camera, Longmont Times-Call, The Denver Post, and Westword. It was also named "Top Neighborhood Restaurant" by BonAppetit.
Stop by and see why.ARISTA Broomfield's spacious apartments offers plenty of amenities, both onsite and nearby. Located near shopping and dining in the creative corridor of the metro area, we offer the perfect place to unwind during the winter and all year long. Contact us to learn more.