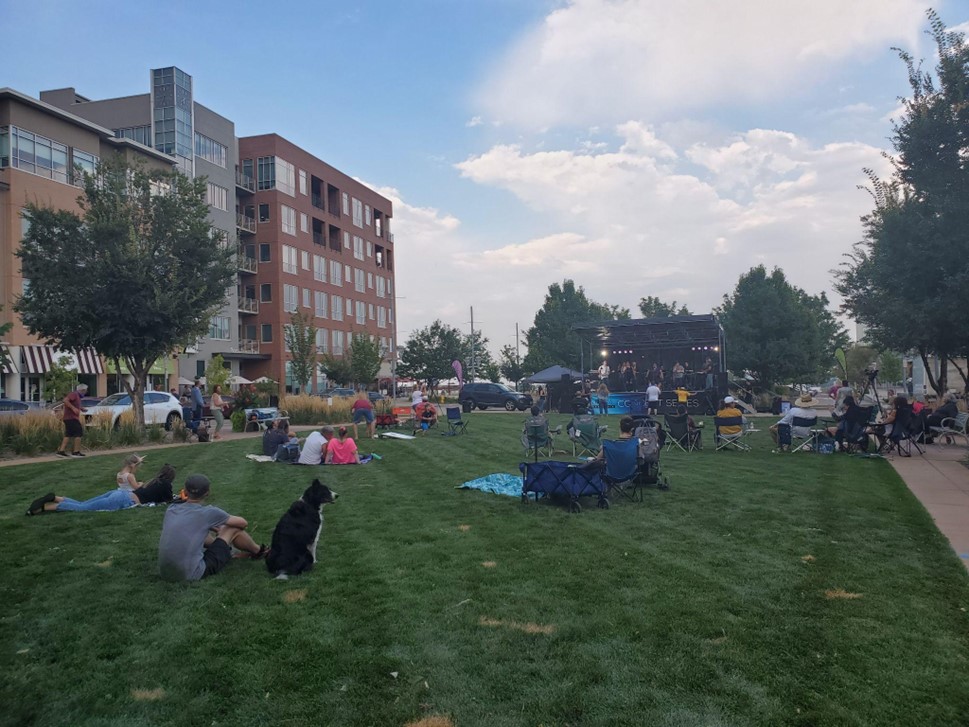 05 Jul

Details About The 2022 Broomfield Summer Concert Series

The 2022 Summer Concert Series is brought to you by Creative Broomfield and features seven concerts at North Midway Park and Redpoint Ridge Park to assure that summer comes in and goes out with a bang…on the drums. 

The concerts include pre-show fanfare, kid-friendly activities, and local food trucks to satisfy your cravings. Bring blankets or lawn chairs and get ready for a musical, magical time.

The Summer Concert Series 2022 lineup is as follows:
Selasee and the Fafa Family
Selasee is a reggae singer from Ghana whose music is inspired by West African genres. He has performed with The Wailers, Steel Pulse, Don Carlos, Third World, and more. Selasee and the Fafa Family take the stage on June 22nd at 7pm at the field west of the Broomfield Library. 
Jessica Fichot
Jessica Fichot is a singer, songwriter, and accordion player whose eclectic style fuses together different languages and honors her French, Chinese, and American roots. It's a little bit jazz, a little bit swing, a little bit folk, and a whole lot of soul. She plays at the Broomfield Auditorium on June 27th at 10am.
Outlaw Jim and the Whiskey Benders
Outlaw Jim and the Whiskey Benders channel Waylon Jennings and Merle Haggard while honoring New Orleans Funk and Southern Rock. Their setlist includes original songs, as well as crowd-pleasing favorites you can sing along to. They're scheduled to perform on June 29th at 7pm at the field west of the Broomfield Library. 
Secret Agency
Secret Agency is made up of Secret Agent 23 Skidoo, Secret Agent Hi-Fi, and Secret Agent Flowers. They are offering a songwriting workshop in the Broomfield Auditorium for children at 1:30 PM on July 6th, as well as a performance at 7pm at the field west of the Broomfield Library. Secret Agent 23 Skidoo is a Grammy-winning artist who combines hip hop with science fiction storytelling. The end result is a highly unique performance sure to captivate all ages. 
Amelia's Big Idea
"Amelia's Big Idea" is a musical production put on by the Butterfly Effect Theatre Company of Colorado,  taking place on July 7th at 4pm in Community Park. The story tells the tale of Amelia Smart, a 10-year-old girl who wants to build a dog park and learns the power of community, ambition, and teamwork along the way. Unlike other events, this one will not have any food trucks onsite. 
The Custom Shop
The Custom Shop is a variety rock band with local roots hailing from Erie. Featuring veterans of the Front Range music scene, the band's style merges charisma with versatility that pumps up the crowd and gets people on their feet. Catch them at the field west of the Broomfield Library on July 13th at 7pm.
Chase N The Dream
Chase N The Dream is an 8 piece dance and show band based out of Colorado that is sure to bring good vibes and great fun! Check them out at Arista Park on Wednesday, July 13th from 6-8pm.
The New Orleans Suspects
The New Orleans Suspects are suspected of delivering a good time! 😉 Made up of some of the most well-known musicians in New Orleans, the band offers powerful vocals coupled with fast-finger guitar riffs, piano, saxophone, and drums. Come see them at North Midway Park on July 20th at 7pm. 
AJ Lee and Blue Summit
AJ Lee and Blue Summit seize the spotlight for the final concert of the series on July 27th at 7pm at Redpoint Ridge Park in Arista. This award-winning bluegrass group features AJ Lee, a nine-time winner of the NCBS best female vocalist award. They meld classic bluegrass with acoustic Americana and enjoy a wide-reaching fanbase. 
Radio Band
Radio Band is a high-energy, club-style, mash-up band that consistently gets the party started every time! Come see them on Wednesday, August 17th from 6-8pm in Arista Park.
Stop by for a handful of concerts or come see all seven. A few tunes or many, this series is the perfect way to celebrate June and July in Colorado. It offers a soundtrack to summer you'll want to replay again and again. 
ARISTA Broomfield is in the middle of the US 36 creative corridor. We offer the perfect place to unwind this summer and all year long. Come check us out! Contact us to learn more.